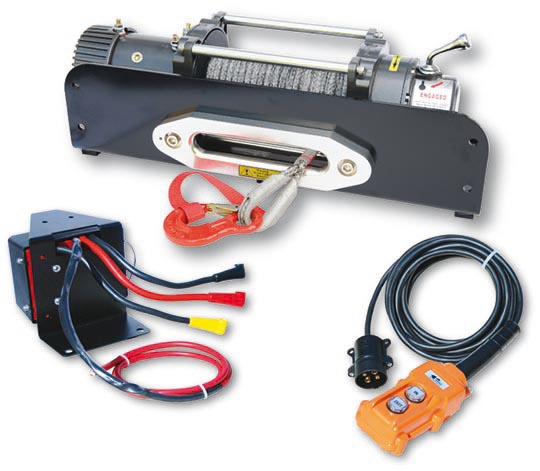 BH DELTA S2300 & S3300
Delta DC Electric Recovery Winch 12v or 24v . Prepared for use with high tensile synthetic ropes with either a 2300kg or 3300kg Line Pull. Ideal for light GVW car transporters, the fire and rescue market, utility vehicles, spec-lifts and 4×4's. This low profile planetary winch incorporates a large electric motor, ensuring good service life.
file_downloadBrochure
file_downloadManual
mailEnquire
FEATURES INCLUDE
2300kg (22.6kN) or 3300kg (32.4kN) line pull
Supplied with Marlow Winchline Dynaline® or Dynaline Max® synthetic ropes
EN14492-1 compliant
Powerful series wound, high torque motor options
12v or 24v
Optional electronic load limiting device
Pre wired to solenoid, switches off winch at rated line pull
Automatic braking action in drum
Aluminium hawser fairlead
Minimum protrusion, a major benefit on lightweight transporters with short bed lengths or 4×4 vehicles.
Rope positively secured to drum
Positively secured to drum with a rope end stock engaged into a slot on the drum.
BH DELTA S2300 or S3300 WINCH KITS
BH DELTA S2300 kit includes Electric winch, solenoid kit, aluminium hawser fairlead, 4.5m heavy duty 2 button wanderlead, mounting plate and 9mm x 23m UHMPE (Ultra High Modulas Polyethylene) high tensile Marlow Winchline Dynaline® rope with safety latch hook.
BH DELTA S3300 kit includes As S2300 kit but comes with 9mm x 23m UHMPE high tensile pre-stretched Marlow Dynaline Max® rope with safety latch hook
MARLOW ROPES SUPPLIED BY BHW GROUP
Features of Marlow Dynaline® and Dynaline Max® ropes:
8 times lighter than wire ropes
70% stronger than comparable wire ropes
Will not kink
No wire splinters
No strength loss when overlapped on winch drum
Ropes will float
Virtually no recoil in unlikely event of rope failure
ADDITIONAL EQUIPMENT & SERVICES
Alternative roller guide in place of hawser fairlead
Electric isolator switch • Auxiliary industrial 16 amp plug and socket kit for wanderlead connection
Fuse and fuse holder
Snatch block
Radio Control
Full or partial fitting can be provided, including load testing and certification
NOTES ON HIGH TENSILE SYNTHETIC ROPES
High tensile UHMPE Synthetic Ropes are popular for a wide range of vehicle winching applications where the user prefers handling these soft pliable ropes.
They are very light to manoeuvre and the overall weight saving can be very important in applications such as 4×4's and on light GVW car transporters.
The ropes used on the BH Delta 'S' winches have a tensile strength in excess of the strength of comparable wire ropes. The winch rating is calculated on a 3:1 factor of safety at the maximum winch pulling capacity (compared to requirements for a wire rope of only 2:1).
In the right applications the BH Delta 'S' series winches with a Marlow Dynaline® or Dynaline Max® rope make a great combination.
Please note: In applications where ropes are regularly subjected to sharp edges or excessive abrasion, use of UHMPE Synthetic ropes is not advised.