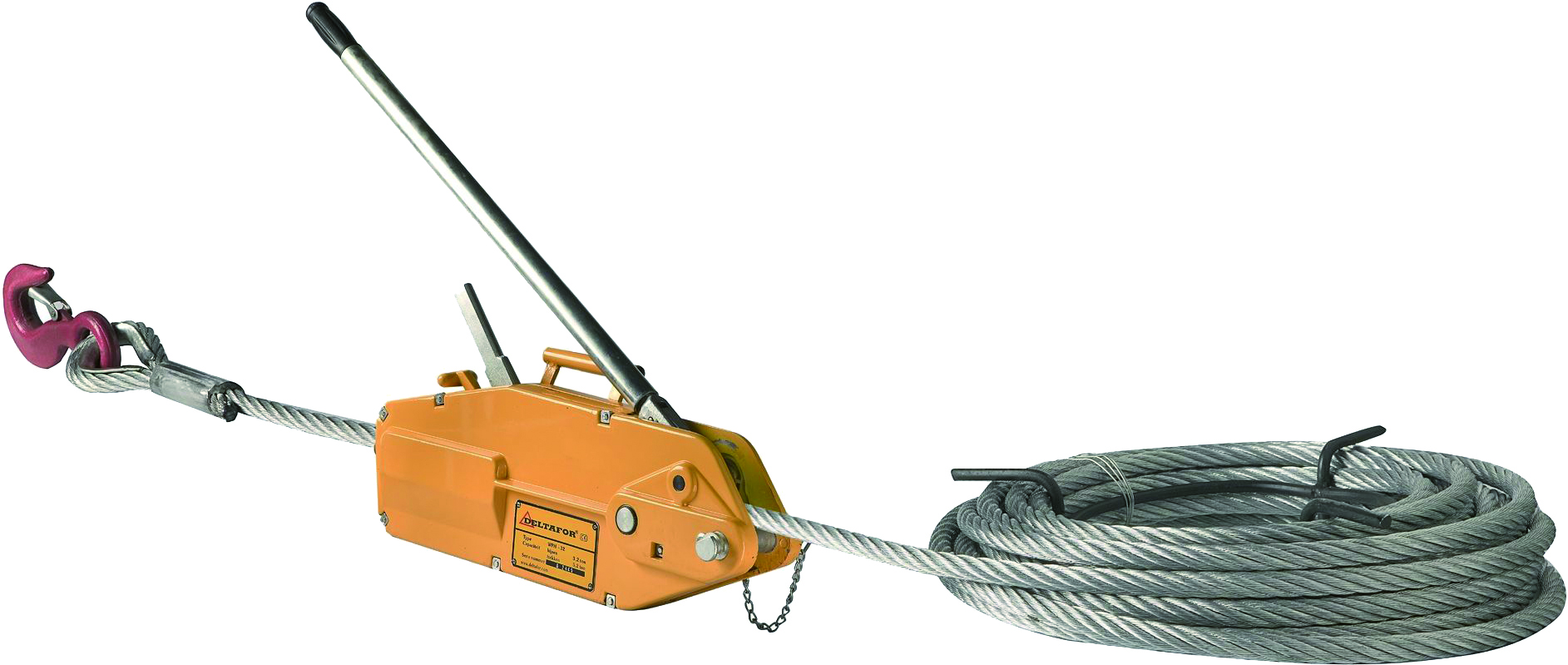 Deltafor CABLE PULLING & LIFTING MACHINES
800kg / 1600kg / 3200kg / 5400kg
Typical uses include Tensioning (Fencing), Vehicle Recovery, Vehicle Stabilisation (Rescue Services), Forestry & Land Management, Equipment Construction.
file_downloadBrochure
file_downloadManual
mailEnquire
FEATURES INCLUDE
Lightweight manual machines
Simple and safe to operate – 4 models
Compact high-strength
Corrosion free aluminium alloy housing
Steel version available on request
Useable at horizontal, vertical and angled working positions
Rope clamp system
Easily disengaged, allowing for smooth installation of wire rope
Equipped with a double lock anchor pin
Offers numerous connection possibilities with the use of a suitable strap, chain or shackle
Overload protection
Built in with a shearing pin in the PULLING IN lever
2 x spare shear pins
Located in the yellow carry handle. Further replacements available from BHW Group
Secure wire rope feed
Fed through two sets of wear resistant interlocking jaws by a single lever operation
Parallel clamping system
With a large surface area, providing evenly distributed grip at a lower force, resulting in less rope wear
Individually serial numbered for traceability
Supplied with relevant CE certification
OPTIONAL WIRE ROPE LENGTHS
Wire ropes are sold separately, normally a 20m wire rope is available on all models as standard.
Other rope lengths supplied as required. No maximum length.
Simple to use hand lever machines from 800kg to 5400kg working loads
 Suitable for lifting, pulling or tensioning, useable at horizontal, vertical and angled working positions.
High strength, compact machines suitable for virtually any angles, with a built in anchor pin.
Overload protected with calibrated shearing pin incorporated into PULLING IN lever. Spare pins also supplied.
A parallel clamping system ensures evenly distributed grip on the wire rope resulting in less machine stress and wire rope wear compared to lower specification competitor products.