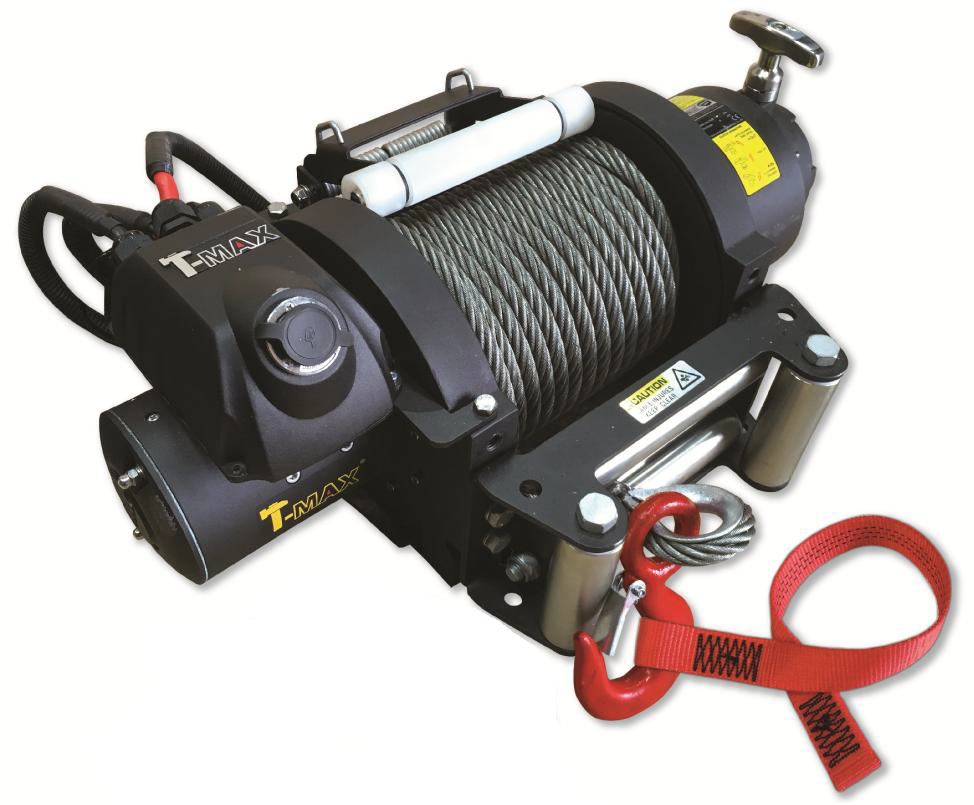 T-MAX DC6000 6.3 Tonne Electric Winch
T-MAX DC6000 6.3 Tonne 24v DC Electric Heavy Duty Winch.
6340kg (62kN) Line Pull. Long Drum with Large Capacity.
TYPICAL USES: Plant Moving and Commercial Recovery. Fully compliant with EN14492-regulations for Power Driven Winches.
The T-MAX DC6000 24v DC heavy duty electric winch comes complete with 3.7m wanderlead, roller guides, tension roller, load limiter and 12mm diameter x 30m, Python Compac spin resistant wire rope with grade 80 safety latch hook.
Options extras include; mounting plate; wireless IN-OUT control; circuit isolator switch; heavy duty extension kit for wanderlead and airshift freespool clutch.
file_downloadBrochure
file_downloadManual
mailEnquire
FEATURES INCLUDE
4 Stage Heavy Duty Machined Planetary Gearing
Providing long life and high mechanical efficiency.
Series Wound, 24v High Torque Motor
Custom manufactured for extended service life.
Electronic Load Limiter
Supplied as standard.
Freespool Clutch Lever
Can also be operated by air-shift control.
12mm Diameter High Tensile Grade Python Compac Wire Rope
With grade 80 safety hook. A longer drum allows for up to 30m length.
Secure wire rope anchorage
Providing full load holding.
Tension Roller
Spring loaded to aid wire rope wrapping.
Heavy Duty Solenoids
With silver layer on contacts to reduce heating and extend service life. Pre-wired to accept wireless control, reducing installation time.
4 Way Roller Guides
The horizontal rollers are wide spaced to extend wire rope life.
ADDITIONAL EQUIPMENT & SERVICES
Electric isolator switch
Auxiliary industrial extension plug and socket kit for wanderlead connection.
Fuse and fuse holder
Snatch block
Radio control unit
Full or partial fitting can be provided, including load testing and certification