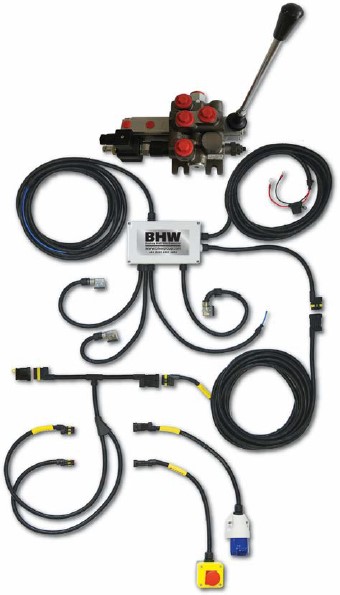 FEATURES INCLUDE
Integrated fully wired system ready to install
Wanderlead control
With 7m cable and fitted with heavy duty industrial socket
Heavy duty auxiliary wanderlead socket
Fitted with 9m cable length (additional sockets can be provided as required)
LED diagnostics
Provided on operating and dump valve solenoids
Emergency stop – compliant with EU machinery directive
Fitted adjacent to wanderlead socket. Will also protect other hydraulic equipment installed such as ramp
operating rams
All wiring in protective flexible conduit
Manual control lever
Can be used as a stand by or for fine speed control
System provided on mounting bracket
Valve and bracket painted black
Radio control can be provided pre-wired into the control
12 months warranty
On parts and service (excluding wire rope)
Fitting service
Full or partial fitting can be provided, including load testing and certification
After sales service
Technical advice given on winch fitting and component replacement, plus efficient overnight parts despatch and fast repairs
BENEFITS INCLUDE
Enables a winch to be operated by a wanderlead control. A wanderlead socket is provided that can be positioned as required. Additional sockets can be provided as an option.
Provides an Emergency Stop control – a legal requirement as defined by the EU machinery directive. Emergency Stop buttons are pre-wired into the control system and can be fitted adjacent to the heavy duty industrial socket.
Multi Functional – if the control valve includes pressure carry over, then any additional equipment such as BHW Ramp•Assist (for raising and lowering ramps) can also benefit from the Emergency Stop function. Additional Emergency Stop buttons can be provided.
Pre-wired Radio Control can be supplied with the receiver connected into the control system.
BHW Electro/Pneumatic Control Systems are supplied READY TO INSTALL – for time saving fitting.