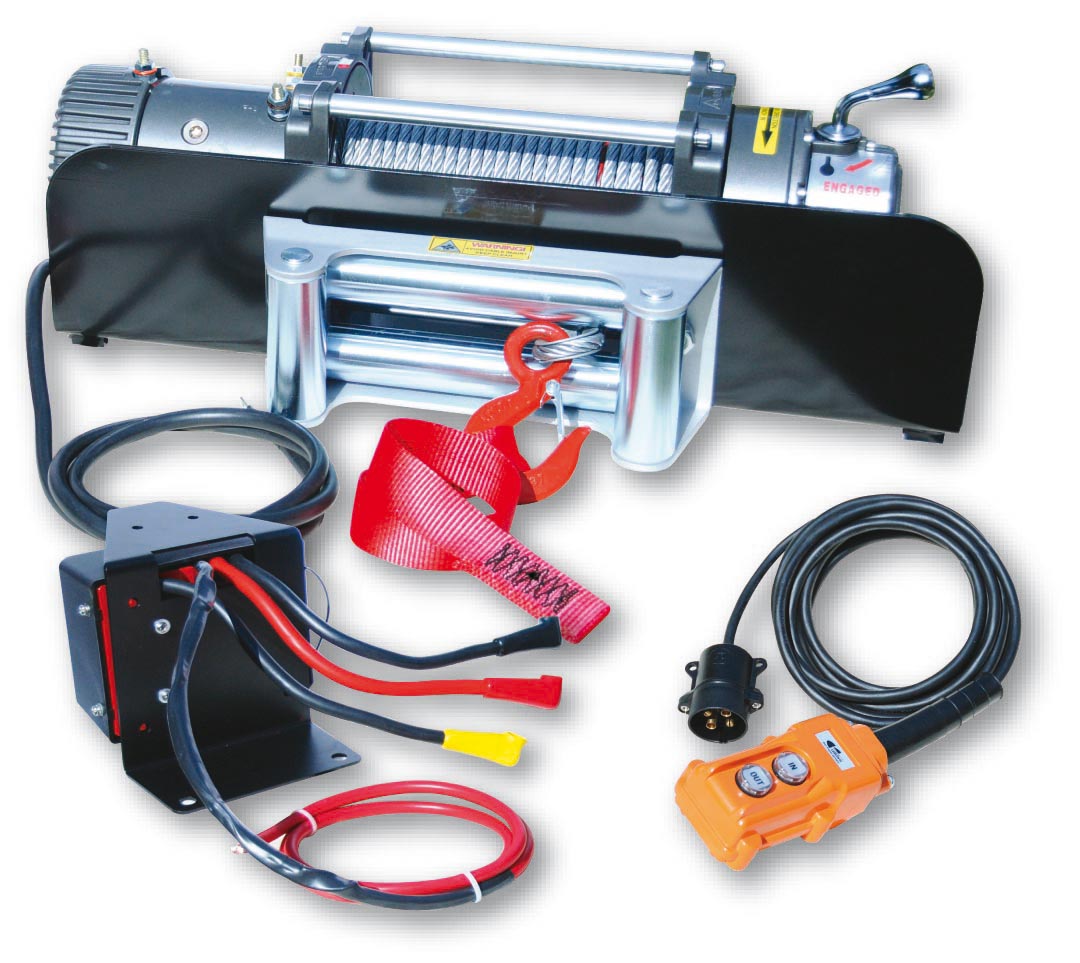 BH DELTA 3200
12v or 24v DC Electric Recovery Winch 3200kg Line Pull
Light Duty Car Transporters, Trailers, Plant Moving Vehicles with GVW up to 3500kg, Spec-Lifts and 4×4's. This low profile planetary winch has been developed for light industrial use. It incorporates a large electric motor, ensuring good service life.
file_downloadBrochure
file_downloadManual
mailEnquire
FEATURES INCLUDE
3200kg line pull (31.4kN)
EN14492-1 compliant
Powerful series wound, high torque motor options 12v or 24v
Optional electronic load limiting device Pre wired to solenoid for safer winch operation
3 stage planetary gearing Providing high mechanical efficiency
Automatic braking action in drum
Freespool clutch lever Easy to operate lever for disengaging drum
Power in / power out Fine control ensures load will not overrun
4 way roller guides and mounting plate
Heavy duty 4.5m wanderlead control Two button supplied a standard, alternative lengths and additional emergency stop button available on request
High tensile wire rope positively secured to drum Using fixed plug and grub screw engagement
BH DELTA 3200 KIT COMPRISES
Electric Winch, 4.5m heavy duty 2 button wanderlead, mounting plate, roller guides and 8mm x 23m galvanised 2160N/mm² grade 6×36 core compacted wire rope with safety latch. Total kit weight 40kg.
ADDITIONAL EQUIPMENT & SERVICES
BHW WINCH CONTROL SYSTEM (see below)
Electric isolator switch
Auxiliary industrial 16 amp plug and socket kit for wanderlead connection
Fuse and fuse holder
Radio control system FM•CONNECT
Snatch block
Full or partial fitting can be provided, including load testing and certification
UPGRADE TO A BHW WINCH CONTROL SYSTEM
Save time and money on installation – Ready to fit. A choice of three alternative winch control kits designed to provide all in one emergency stop, isolator switch, safety solenoid and power outlets.
SPECIFICATIONS
Rated Line Pull (single line): Maximum recommended working capacity 3,200kgf to comply with EN14492-1. Stall capacity 4300kg.
Gear Ratio: 216:1 for either 12v or 24v.
Motor: High torque series wound 12v (6hp) or 24v (4.7hp).
Switching: Heavy duty, double acting solenoids can be mounted adjacent to winch or on to the winch tie bars with straps provided. Load Limiting Device Optional, pre-wired and fitted to underside of solenoid pack. Can be calibrated to shut down winch when maximum load limit is reached.
Wanderlead Control: Commercial heavy duty type with 2 operating buttons and 4.5m cable. Other lengths and additional emergency stop button versions available on request.
Roller Guides: Heavy duty, 4 way commercial type with greaseways.
Wire Rope: 8mm diameter galvanised 2160N/mm² grade, 6 x 36 wire core compact construction with 65.6kN minimum breaking strain. 23m maximum length.
Freespooling: Lever on gear housing to disengage clutch.
Complete Kit Weight: 40kg.
NOTES
These winches must not be used for the movement of personnel and 5 wraps of wire rope must be maintained on the drum. Data shown is approximate and intended as a guide only.
WARRANTY
Each new winch is guaranteed against defects in workmanship and material defects for a period of twelve months from date of purchase. Wire ropes are not included under warranty.