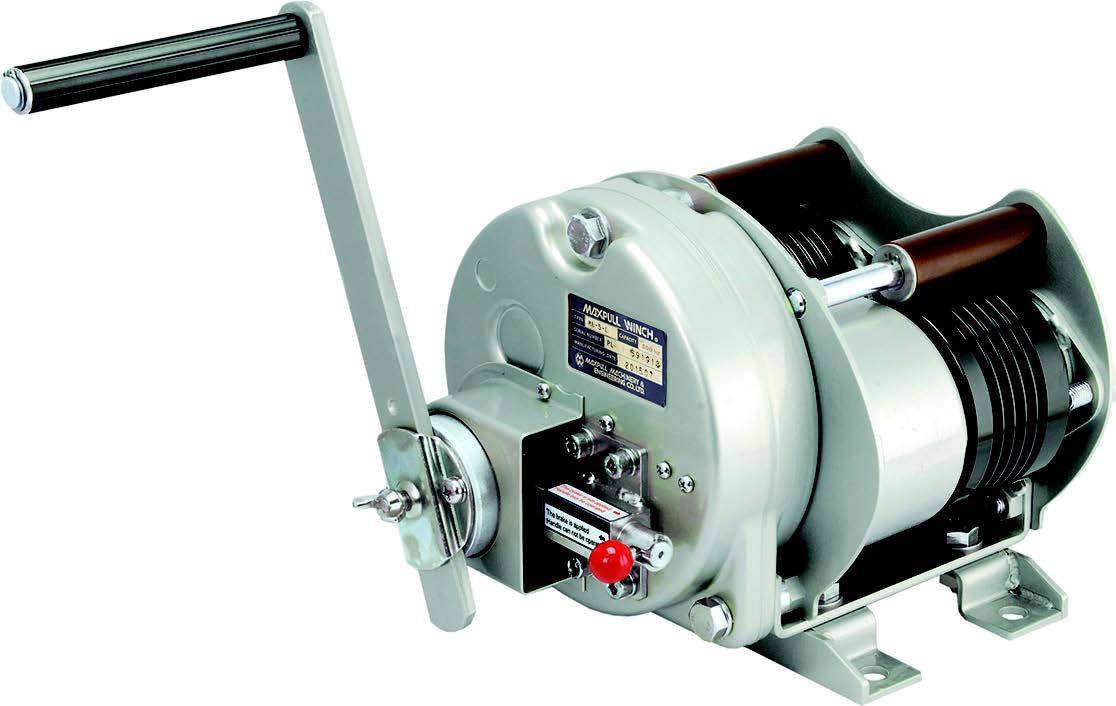 MAXPULL ME5 & ME10 CAPSTAN HAND WINCH
MAXPULL ME5 & ME10 – DUEL DIRECTIONAL CAPSTAN HAND WINCH
MECHANICAL (B) OR LATCHING (L) BRAKE
500kg or 1000kg Capacity
Superior build quality means that these units offer long life and are suitable for a wide range of industries and applications. High-end engineering, the ME is easy to use and offers smooth operation. These hand winches are designed with a grooved twin drum which improves friction for efficient winching.
MAXPULL ME5 & ME10 capstan hand winch are available with either a mechanical or latching brake option. Used in factory environments for the movement of heavy machinery; in agricultural applications on farms and greenhouses; on furnace trolleys for controlled operation; steeplejacks and for chimney cleaning; the operation of silo ports; opening and closing of gates and for moving gymnasium nets in sports centres.
MAXPULL hand winches combine compact design and safety with high performance and durability. High quality Japanese design is backed up by Bushey Hall Winchmaster's UK based after sales support team. Our team of winch and hoist specialists are on hand to ensure the right product is specified for the application at the point of purchase. With technical back up and aftercare, Bushey Hall Winchmaster ensures you're supported throughout the lifetime of the product.
Manufacturers Promotional Video
file_downloadBrochure
mailEnquire
FEATURES INCLUDE
Grooved Twin Drum Improving Friction
Two Brake Options L or B (see options)
Pressure Roller Secures Rope to Drum
Stable Pulling Power in Two Directions
Pull in a Choice of One or Two Directions
Compact and Lightweight Design
OPTIONS
B – Mechanical Brake
Brake works when winch is in operation
which makes it ideal for lifting but not for
pulling.
L – Latching Brake
Brake works when engaged. Whilst engaged
the winch cannot be operated in either
direction. Ideal for pulling, not to be used for
lifting.
EXAMPLE APPLICATIONS
Factory Environments
Movement of Heavy Machinery
Agriculture, Farming, Greenhouses
Furnace Trolleys with Controlled Speed of Operation
Steeplejacks, Chimney Cleaning
Opening/Closing of Silo Ports
Opening/Closing of Gates
Gymnasiums, Sports Centres