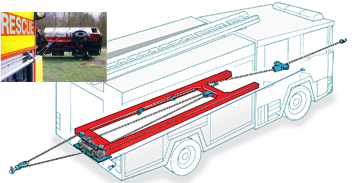 RESCUE•MASTER
Unique Winching System
The BHW RESCUE•MASTER winching system has been developed for use by the Rescue Services on rapid intervention vehicles where maximum flexibility is required. One hydraulic machine provides front and rear winching facility on rescue vehicles, giving up to 9.25 tonnes pulling capacity.
In addition to the RESCUE•MASTER winching system illustrated, BHW provides winches and all ancillary equipment necessary for front bumper mounting. All machines are rated 2:1 factor of safety in line with MoD requirements BS7901.
file_downloadBrochure
file_downloadManual
mailEnquire
FEATURES INCLUDE
Fully compliant with EN 14492-1 regulations.
Unique positioning of the winch ensures the wire rope wraps onto the drum without bunching due to the minimum approach angle of the rope to the drum (fleet angle).
The rear mounted winch is conveniently positioned for easy access to the free spool clutch and for maintenance purposes. The rope is also visible whilst wrapping on the drum. Space is provided for the wire rope to run forward and then return to the rear between the body sub-frame members.
No reeving is required to achieve pulls from the front or rear. The wire rope can be spooled off the winch drum when the hook is taken to the recovery by simply releasing the free spool clutch on the winch. (Mechanical or hydraulic free spool release is available).
The rear winching action always incorporates the snatch block thus doubling the winch capacity and pulling power.
The front rotator enables the wire rope to be pulled at an angle both horizontally and vertically to the rescue vehicle.