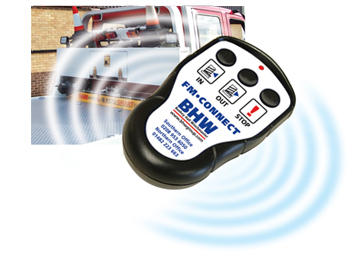 FM•CONNECT
FM Radio Control System for DC, AC and Hydraulic Winches
Combines all the best features of existing radio control systems currently available – PLUS new, additional benefits
The FM•CONNECT can also be used in conjunction many BHW systems, including:
REEL•SMART
PLANT•MASTER
CARPET•TUG
POWER•WEDGE
RAMP•ASSIST
and several hydraulic and electric winches – ask sales for details.
file_downloadBrochure
file_downloadManual
mailEnquire
FEATURES INCLUDE
In consultation with professional users of radio control products, the BHW Group, leading UK winch specialists, are pleased to offer FM•CONNECT a new, tough, reliable radio control system.
Can be used with DC, AC (1PH & 3PH) and HYDRAULIC winches.
The specially designed receiver and transmitter enclosures ensure all weather protection.
Reliable FM Technology, together with easy installation makes FM•CONNECT a favourite choice for commercial and industrial winch users.
Easy installation and replacement – the wiring harness is already installed into the receiver and is connected by simple plug-in connectors.
Freedom of movement and control – FM•CONNECT makes vehicle recovery or the job of loading plant and machinery much easier and safer for the operator. Work is completed quickly and efficiently.
The transmitter can be self–coded, simplifying installation and replacement if this should become necessary. CE marked for EU compliance to R and TTE 1999/5/EEC.