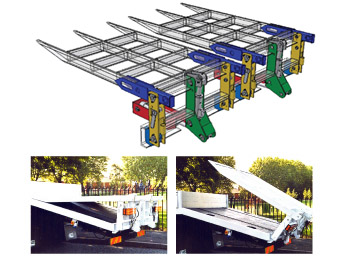 POWER•WEDGE RAMPS
Double Folding Ramp System
Plant Hire companies and those involved in moving Plant and machinery often require vehicles that will provide flexibility to ensure maximum vehicle utilisation with the least amount of effort and down time. Beavertail gradients must now be no more than around 10° for loading some equipment so they are long and not ideal for carrying other equipment such as site huts.
The solution is POWER•WEDGE.
file_downloadBrochure
file_downloadManual
mailEnquire
POWER•WEDGE RAMP SYSTEM INCLUDES
Hydraulic Rams-Nitrotec impregnated for protection
against corrosion and chipping
Controls for raising lowering and folding
Double acting over-centre valves for safety
System mechanism with all hinge points
Manual locking
Full fitting instructions
Optional – DC power pack
Optional – pneumatic locking with indicator light
FEATURES
Bodybuilder fabricates ramps to suit customers application
Easy to use controls with each ramp operated independently
Will function on uneven ground
Operators can obtain replacement parts quickly to minimise costly down time
POWER
System uses the vehicles' hydraulic power if available. Alternatively an independent DC power pack can be supplied.